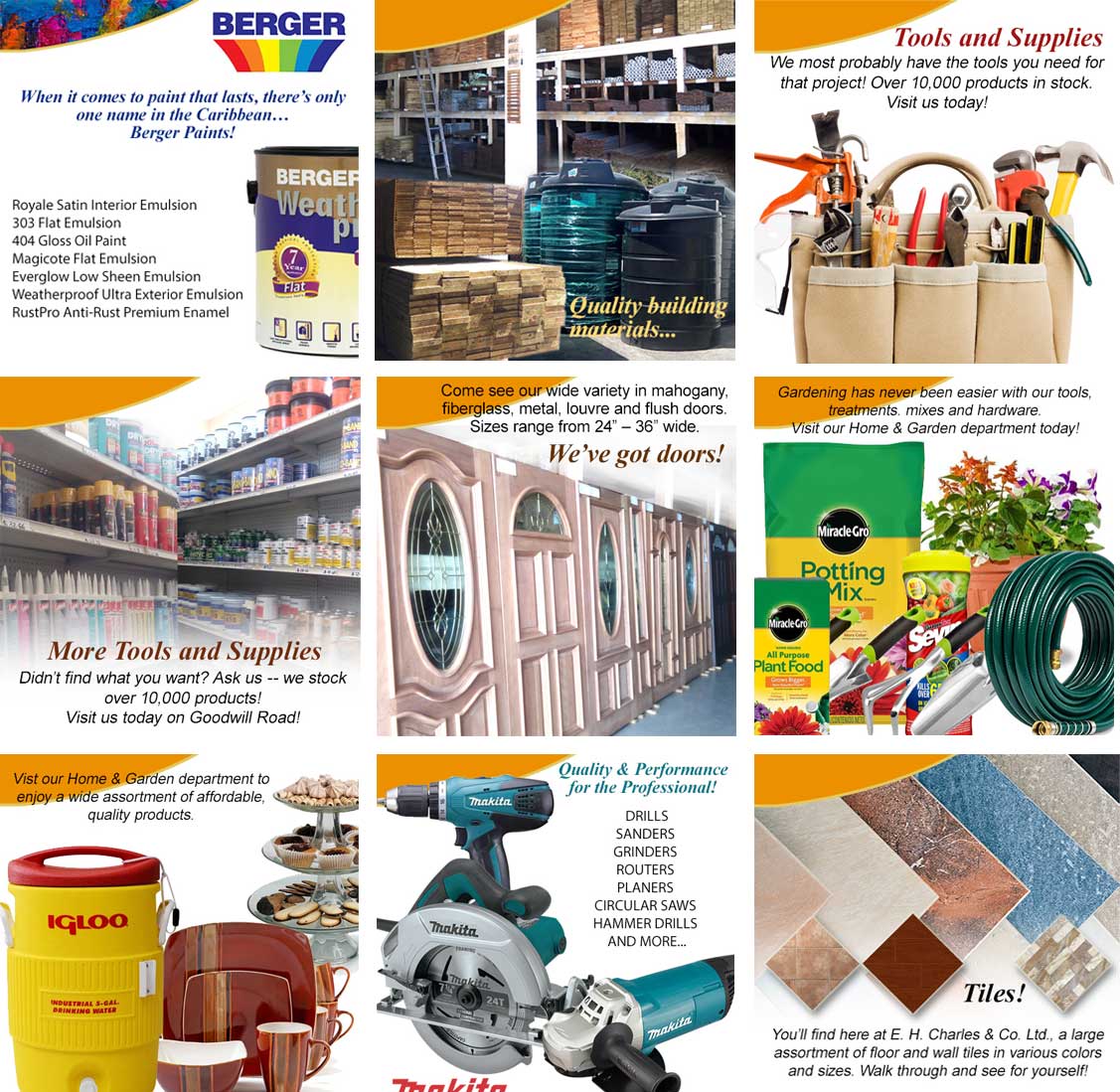 Some Useful Tips
Hurricane-force winds can easily destroy poorly constructed buildings. Debris such as signs, roofing material, and small items left outside become flying missiles in hurricanes. Extensive damage to trees, towers, water and underground utility lines (from uprooted trees), and fallen poles cause considerable disruption.
Permanent Storm Shutter
Install hurricane straps or additional clips
Clear loose and clogged guttering, downspouts and drains
Supply of water for sanitary purposes
Fill water tanks, bathtubs, and other large containers with water
Building a safe room to serve as a hurricane shelter

We store three types of glass: Frosted (Figured), Clear float, and Bronze at 1⁄4″, 1⁄8″ and 3⁄16″ thicknesses.
"special ordered item" is any order personalized to customer specification by altering a color or measurement on a customer's instruction.

E. H. Charles & Co. Ltd True Value Hardware is centrally located on Goodwill Road, Roseau Dominica. We're a locally developed and owned company. Our foundation started in building construction in 1967. This is showcased in our own buildings and many others across the island. We have been supplying the general public with quality building materials and hardware supplies for over 50 years.
Over 10,000 products are offered at our retail location on Goodwill Road. Customers can purchase a full range of products to complete their projects. – From foundation to roof!
Here is a condensed list of the product categories:
Building materials: cement, steel, lumber, BRC, galvanize, and much more
General hardware: doors, tiles, locks, hinges, gloves, hand tools,
Paints, varnishes, stains: Berger – quality paint.
Power Tools – Makita power tools and accessories
Electrical fixtures and fittings and accessories
Plumbing and bathroom fixtures, fittings and accessories
Home & Garden supplies for kitchens, bathrooms, bedrooms, patios and the garden
We also offer glass – cut to customers' specifications.
Visit our Facebook page for regular stock alerts, useful Do-It-Yourself videos and promotions!


9th International Construction Award

Platinum Star for World Quality Commitment Award.

11th International America Award for Quality

1Golden Award for Commercial Prestige